At Zari Consulting Group, our Fire Protection Consultants come from numerous different backgrounds including architecture, mechanical engineering, civil engineering, electrical engineering, and general contracting.
Our consulting engineers are most commonly involved with design of large buildings and structures. Our role on the design team can range from fire protection system design, including addressing fire and life safety concerns during design and construction; to analyzing building code requirements based on numerous specific parameters of the building. In this role, we work closely with architects, engineers from other disciplines, and contractors to deliver some of the most impressive structural feats of human kind.
Zari Consulting Group is a full-service Fire Protection Engineering and Building Code Consulting firm focused on medium and large scale construction projects. As an employee of Zari Consulting Group, over fifty percent of the projects you work on will have a market valuation of over 100 million dollars, and approximately ten percent of the projects you work on will have a market valuation of over 500 million dollars. As a result, it is imperative that our consultants have excellent communication capabilities and excel at working in large groups with some of the most skilled design professionals in the world.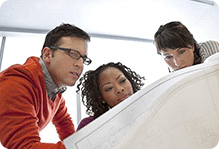 We are always seeking to employ intelligent and dynamic individuals who possess the ability to think extremely critically, objectively, and thoroughly. Excellent mathetmatical skills are also imperative. We are currently seeking to hire qualified engineers and consultants, with at least ten years of experience, for both our east coast and west coast offices. Applicants do not need to be licenesed Professional Engineers (PEs), but they should have the motivation and desire to become one.
If you feel like you fit this criteria, and you are interested in joining our team, please email your resume to [email protected] with the Subject Title "Career with Zari Consulting Group." Please do not provide a cover letter and try to keep your resume concise.
Thank you for your interest!
Example Deliverables
In the world of engineering consulting, it isn't enough to only come up with a cost effective solution to a client's issue. At Zari Consulting Group, we take great pride in clearly and concisely communicating our engineered analyses through deliverables submitted to the client and AHJ. We also take pride in thoroughly researching all the different possible requirements (IBC codes, NFPA standards, local amendments) that might be at play for a particular project and organizing them into an easily coherent and comprehensible report. Below are a few examples of reports composed by Zari Consulting Group that consolidated the requirements from numerous different NFPA standards, IBC codes, and local jurisdictional amendments. Also provided are a few examples of the in-depth knowledge of fire sprinkler, fire alarm, fire pump, and smoke control systems that our staff members possess.
Please feel free to contact one of our regional offices if you'd like to receive a company brochure or to learn about our outstanding employee benefits packages, which include health, vision, dental, and 401 (K) plans.
Zari Consulting Group is not a conventional consulting firm that seems to maintain operational procedures from a previous decade. We do not micro-manage our consultants, making sure they arrive at the office 8am and stay until 5pm. We do not control our consultants' personal time off. At Zari Consulting Group, you will be treated like the professional that you are.