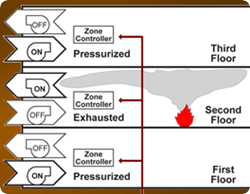 When a building catches fire, civilians inside are more likely to be seriously hurt or killed by smoke than by the fire itself. To mitigate this risk, many developments provide a smoke control system to stop smoke from migrating within a building and to get smoke out of the building as quickly as possible.
Comply with local regulations and protect the people inside your building by working with Zari Consulting Group. We provide effective smoke control system design to all types of commercial clients.
Consult the Experts
Zari Consulting Group has the experience, technology, and methods you need to make your project more secure. No matter the size, shape, or layout of your building, we can meet challenges associated with smoke control systems and provide you with well-engineered smoke control system design.
We start by assessing your building's design and layout, including the location and size of your HVAC fans, elevators, and stairs. Additionally, we take into consideration the building's fire protection systems and fire alarm system, and climate considerations like the average outdoor high and low temperatures, and the wind directions.
Once we have a thorough knowledge of these imperative building features, we'll get to work to design a smoke control system that functionally works with your facility. Our consultants will work with local authorities through every step of the process to make sure that your smoke control system meets all code requirements. When construction is near completion, we will ensure the smoke control system has been installed correctly through our special inspection process.
Reach Out to Us
To contact Zari Consulting Group our request an SOQ, call us at (888) 779-3397. We assist on projects in all 50 states, plus numerous international projects, and we have numerous regional offices throughout the country. Our consultants are prepared to answer your questions and work on your facility's smoke control system design. Contact us today to get started.