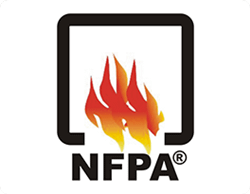 Fire codes provide specific requirements centered around the effort to minimize the potential risk from fire inside buildings while maximizing life-safety potential. Fire codes also address the specific needs of emergency responders.
Like our building code consulting services, we offer our fire code consulting services at every step of the design process. Our fire code consulting Services include: determining fire-flow design requirements, determination of allowable hazardous inventory levels, development of commodity compatibility and compartmentalization, calculating explosion venting requirements, providing fire detection and suppression systems design criteria, conducting site fire hydrant flow test and analyses, determining fire department vehicle site access, designing location of fire department connections and backflow preventors, determining fire department hose lengths and access, calculating fire water storage tank locations and sizes, computer modeling underground fire main size and capacity, determining fire hydrant spacing requirements, and negotiating alternate means with AHJs.
With our decades of experience in all fields of fire protection, Zari Consulting Group offers the highest quality of fire code proficiency in the industry. Our consultants are always willing to discuss a project extensively with the Fire Department to ensure our clients needs are being met based on Fire Official requirements.