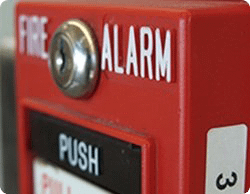 Fire alarm systems are intended to provide building occupants with early notification of a developing fire. Along with fire sprinklers, fire alarm systems are a valuable life safety aspect of any building, but unlike sprinklers their sole purpose is to be used as a life-safety system.
Jurisdictions are increasingly requiring the installation of a fire alarm system throughout commercial buildings. Most commonly, fire alarm system notification occurs when a building's fire sprinkler system activates. For earlier warning, however, fire alarm detection devices are often installed. Early warning fire alarm detection devices include smoke detectors, heat detectors, beam detectors, and flame detectors.
Our Fire Protection Engineers can provide bid document or shop drawing preparation for permit for all forms of systems, including: fire sprinkler waterflow monitoring, full coverage smoke detection, beam detection (for large volumes), flame detection (for high value protection), heat detection, and manual pull station locations. Our fire alarm system packages include device and appliance layout, development of specifications, voltage drop calculations, wiring diagrams, battery backup calculations, and development of product data sheets. Our engineers are also very well versed with the design and construction of Fire Alarm Aspiration Sensing Technology systems (FAAST) such as VESDA or FIKE.
Our Fire Protection Engineers are also available to perform: site investigations; contractor performance monitoring (submittal reviews, RFIs, etc.); system acceptance testing; analysis of existing systems.