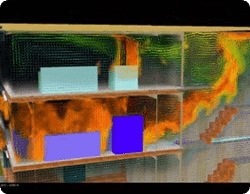 Building codes are often very restrictive when it comes to the ability to think creatively and implement a unique, innovative architectural design. As a result, a performance-based design approach is often necessary in order to achieve a specific design vision.
Zari Consulting Group has the expertise and tools to utilize the most cutting edge and sophisticated modeling software to ensure that your design becomes reality. As experienced professionals in fire modeling software tools, we can model smoke movement and smoke production for smoke control systems, heat release rates to determine a building's structural integrity, temperature outputs, fire sizes, the moment of fire sprinkler activation, timed egress analyses, hydraulic calculations for sprinkler and fire hydrant requirements, and fuel load calculations.
Fire protection engineering modeling software is becoming more and more recognized by authorities having jurisdiction. However due to their complex nature, it is vital that qualified professionals oversee implementation of the input parameters for the modeling software. In most cases, this requires the involvement of a licensed fire protection engineer.
At Zari Consulting Group, our goal is to utilize fire modeling software to determine and develop the most appropriate methods to minimize a facility's fire and life safety risk and to ensure our clients are fully complying with building code, fire code, and NFPA Standard requirements.