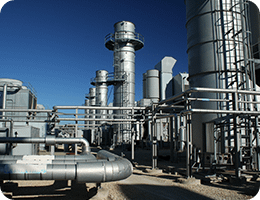 Most conventional building codes and fire codes do not provide adequate information and direction when it comes to protecting electric generating plant and other types of energy-related facilities. In order to make sure these complexes are designed and constructed safely, with minimal risk and down time if a problem does occur, good engineering practice as well as an experienced understanding of the National Fire Protection Association (NFPA) Standards is a must.
NFPA 850, Recommended Practice for Fire Protection for Electric Generating Plants and High Voltage Direct Current Converter Stations, is the standard to which most electric generating plants are constructed. Chapter 4 of NFPA 850 requires a fire protection engineer to conduct a Fire Protection Design Basis Report that evaluates a facility's layout and hazards. This report analyzes all fire protection features, including: adequacy of the existing water supply, specific method for automatic fire extinguishing protection (if any), locations and extent of fire barriers, fire alarm system requirements, and method of protection for unattended facilities.
Zari Consulting Group can provide fire protection system design and the Fire Protection Design Basis Report for all types of energy-producing facilities. We offer our clients with unparalleled knowledge of NFPA 850 and other pertinent NFPA standards related to power plant and energy-related facilities, and we provide a common sense perspective combined with good engineering practice to provide our clients the best possible approach to protecting these facilities.
See Our Projects