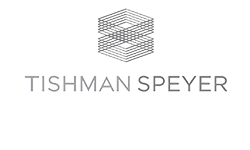 Tishman Speyer is one of the world's largest commercial real estate organizations. It was established in 1978 by Robert Tishman and Jerry Speyer in Manhattan, New York. Their current company headquarters is located in Rockefeller Center, and they have locations all over the globe including throughout the United States, Europe, China, Brazil, India, and Mexico. Tishman Speyer has created some of the largest real estate deals in history, which includes the purchase of the MetLife building in New York City for $1.72 Billion.
Zari Consulting Group'sbuilding code consulting services for various Tishman Speyer developments has included the following:
Providing a site analysis of the property for conformance with the International Building Code (IBC), including but not limited to:

Fire separation distances
Exterior wall ratings
Allowable number of openings in exterior walls
Possible increases in area due to frontage space
Fire department access, including vehicle access, hydrant locations, Fire Department Connections (FDCs), and hose line reaches.
Attending meetings and a site surveys with the Tishman Speyer to develop an understanding of the building layout.
Reviewing the building's floor plans to develop an understanding of the occupant loads, exit accesses, and exit enclosures, and determining how these systems can be used to Client's benefit, with respect to maximizing the building's required egress floor area. .
Attending meetings with the project architects to discuss the parameters of the project and identify fire protection/life safety objectives.
Reviewing the architectural plans for the building to verify conformance with the nonstructural fire protection and life-safety requirements of the International Building Code (IBC) and International Fire Code (IFC).
Reviewing site plans, specifications, and other documents provided related to the existing site layout, including fire access roads, fire protection water supply, electrical power and fire alarm system infrastructure.
Developing Alternate Means and Methods Requests (AMMRs), engineer judgements, and code variances when design issues arise, providing an equivalent level of fire protection and life safety. Zari Consulting Group's AMMRs and engineer judgments are also wet stamped by a licensed fire protection engineer.